R.I.P. - A MAGAZINE
As of February 2002 -
aMedia, Inc.
has ceased operations and aMagazine: Inside Asian America has discontinued publication. aMagazine was a vital and respected source of information for the Asian American community. They had recently
merged
with Click2Asia in January 16, 2002 - along with the now-defunct Classified Records.
AZN RAPPER ON BET'S 106 & PARK
On BET's 106 & Park "freestyle battle" section - an Azn rapper name Jin (from AznRaps.com) who went up against Hason, who had a 6-week winning streak on the show, and beat him!
SUSAN LEE - 1ST AP WOMEN IN MARYLAND LEGISLATURE
Susan C. Lee was appointed yesterday by Maryland Governor Parris N. Glendening (D) to a vacant seat in the House of Delegates.
She is the first Asian Pacific American woman to serve in the state legislature and fills the seat vacated by Nancy K. Kopp (D), who was elected state treasurer in February 2002.
Lee, though having never held an elected office before, has extensive experience in state and local politics. Lee has been an attorney with the Washington, D.C. law firm Gebhardt & Associates and previously at Pena & Associates.
Lee is currently the Co-Chair of the Montgomery County NAACP Multicultural Community Partnership and a co-founder and board member of the Asian Pacific American Institute for Congressional Studies (APAICS). She holds a law degree from the University of San Francisco School of Law and a B.S. from the University of Maryland, College Park.
DANIEL INOUYE FELLOWSHIP RECEIVES $100K
George T. Aratani has endowed $100,000 to the Asian Pacific American Institute for Congressional Studies' (APAICS) for the Daniel K. Inouye Fellowship Program. The nine-month program is designed to encourage a graduate student who has a commitment to the Asian Pacific American community to pursue a public policy career.
Mr. Aratani is currently Chair of the Aratani Foundation in Los Angeles, California. In 1994, the Aratani Foundation was created to help support non-profit organizations that serve the Asian Pacific American community.
The Foundation was named after George Aratani who founded three international corporations: Mikasa - a leading tableware company, Kenwood - a high fidelity electronics enterprise and AMCO a medical supply business.
The first Inouye Fellow for the 2001-02 Program year is Ms. Snehal Majithia of Chappaqua, New York. Ms. Majithia graduated in May of 1999 from New York University with a Bachelor of Arts degree in Political Science, Gender Studies, and Asian American Studies. For the duration of her fellowship, Ms. Majithia is working with the Center for Policy Alternatives, a non-profit, nonpartisan public policy and leadership development center.
WILMA CHAN - 1ST CALIFORNIA MAJORITY LEADER
Just two years after getting elected to the California State Assembly, lawmaker Wilma Chan, D-Oakland, has been named the Assembly's next majority leader. The appointment makes Chan the first Asian Pacific American and the first female to take the role of majority leader. She currently serves as majority whip. She was the first APA elected to the Alameda County Board of Supervisors and the Oakland school board in the 1990's. Chan won top ratings from senior and children's advocacy groups for her support on 35 bills dealing with seniors' and children's issues.
APA'S HEAD THE BEST HIGH SCHOOL TENNIS TEAM
Southern California's Irvine University Boy's Tennis team members might be one of the best in the United States. In 2002, they have already won its second consecutive Division II title.
Coach John Kessler's team include the following tennis players:
Aaron Yovan
Jack Li (Southern California boys' 16 division sectional champion)
Henry Mak
Jeff Lawrence
Anson Hsu
Matt Chou and
Michael Haier.
TODAI EXPANDING ITS CHAIN RESTAURANTS
Todai, which has 17 ethnic food buffets, has tapped into consumers' appetite for all-you-can-eat sushi - despite the business falloff after September 11, 2001.
In 2001, Los Angeles-based Todai Franchising has the annual sales of its company-owned and franchised outlets up to $70 million. It maintained a profit margin of 5% at year's end and exceeding the restaurant industry average of 3% to 4%. Todai operates in five Western states, with most of its 17 restaurants in California. About half are franchised, the remainder company-owned.
Todai's founders, Kaku and Toru Makino, opened the first Todai in Santa Monica in 1985. The restaurant, one of the first all-you-can-eat sushi places, was so popular that by the late 1990s, they had opened 10 buffets in California.
Hans Kim, Todai's chief executive, form an investment group name Meramia, that purchased a majority stake in the Todai chain in 1998 and upgraded the menu by adding such items as Canadian lobster and crab. It doesn't, however, make any pretensions of the dishes at swanky sushi spots.
Though Todai buys in bulk and gets discounts, the upgraded food costs consume 39% of the chain's sales, compared with about a third of sales at other buffets. Todai, a 17 years old company, is more expensive than most buffet restaurants with "Adult" lunches ranging from $12 to $14 for lunch and $22 to $26 for dinner - depending on the location.
Company's strategy is to operate in upscale areas with a sizable concentration of Asian Americans. The chain hopes to sell stock to the public within three years to fund future expansion to meet their goal of 30 new restaurants in the next five years.
APA'S AT THE OLYMPICS
Apolo Anton Ohno won two medals at the 2002 Olympics - a Gold and a Silver.
Michelle Kwan won the Bronze Medal at the 2002 Olympics, despite being expected to win the Gold. Presently, she is already tied for having the second-most American women's titles, three behind Maribel Vinson. Only two men have more national titles, Dick Button and Roger Turner, who have won seven each. If Kwan goes on to the world championships in Nagano next month she could equal the five world titles won by compatriot Carol Heiss, though she is a long ways away from the ten world titles of Norway's three-time Olympic champion Sonja Henie.
APA POLITICAN CHANGES VOTE
House of Representatives voted 240 to 189 to approve legislation that would limit campaign funds from special interests.
Rep. Robert "Bobby" Scott (D-VA), a Filipino American and executive committee member of the Congressional Asian Pacific American Caucus, voted against the bill. He, along with 11 other Democrats, broke away from his party to vote against what may be the most significant overhaul of campaign finance laws in over 25 years.
Rep. Scott defends his vote against the Shays - Meehan campaign finance reform bill because it "violated the First Amendment of the Constitution."
The bill (H.R. 2356) will now be sent over to the U.S. Senate for consideration and debate. After 16 hours of debate, the bill includes the following provisions:
Limit the amount of soft money contributions and restrict election-related advertisement by third party groups;
Restrict the use of soft money to pay off campaign debts;
Limit donations strictly to state parties, which could not be used to promote federal candidates; Bans corporations, unions and advocacy groups from targeting candidates by name in "issue ads" within 60 days of a general election or 30 days of a primary; and
Raise the limit on individual contributions to candidates from $1,000 to $2,000.
APA Members Vote on H.R. 2356
Bipartisan Campaign Reform Act

Honda, Michael - Yea
Matsui, Robert - Yea
Mink, Patsy - Yea
Scott, Robert - Nay
Wu, David - Yea
Faleomavaega, Eni (does not have a vote)
Underwood, Robert (does not have a vote)
TERMINATOR, THE KID & BRIT AWARD SHOW
Dan "The Terminator" and Kid Koala are part of the "virtual hip-hop group Gorillaz that received six nominations in the 2002 Brit Awards. They, however, didn't win any awards. The group also includes the following musicians:
Blur's singer Damon Albarn
former Talking Heads' Tina Weymouth
Chris Frantz
artwork of Tank Girl creator Jamie Hewlett
Cibo Matto's Miho Hatori and
Del Tha Funkee Homosapien.
PROMINENT APA FIGHT PROMOTER'S EVENT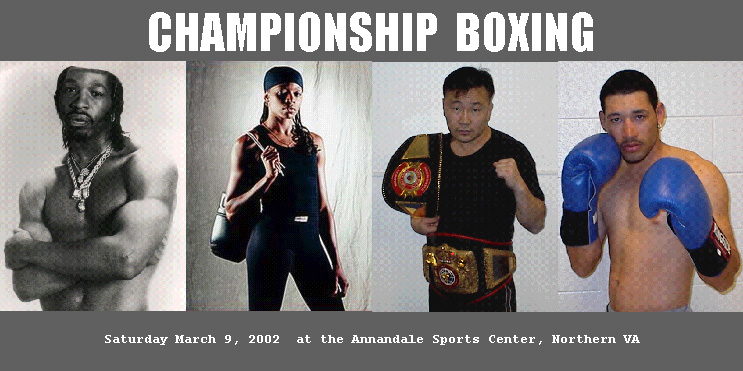 Mark Chang presents an evening of professional boxing on Saturday: March 9, 2002 at 7:00 P.M. at Annandale Sports Center. Event features the following:
Mitch "Blood" Green vs. Danny Wofford, 12 rounds for the W.B.S. Super Heavyweight Championship
Lisa Foster vs. TBD, 6 rounds for the W.B.S. Women's Bantamweight Championship
Former WBF-Intercontinental and VA State Champion Sugar Han Kim vs. Thomas Coleman in a 4 round non-title affair
Specific info can be found at House of Chang website.